Braconnage
solo show
ARTISSIMA ART FAIR, Turin, 1-4 novembre 2018

Jouant sur des ambivalences de formes concrètes et abstraites, documentaires et imaginaires, minimales et foisonnantes, le travail pictural de Nelly Monnier commence en voyage avant de se composer à l'atelier. Les échantillons qui lui servent à peindre sont extraits de l'ensemble des paysages visités. Décoratifs ou utilitaires, ayant une ambition artistique, rituelle ou signalétique, les objets et motifs de la collection photographique qu'elle mène depuis quelques années manifestent tous le désir commun de signifier et d'embellir le chez-soi, par la forme et la couleur, et de se singulariser. Ils sont une déclinaison populaire de l'idée du beau et de l'utile.

Pour autant, sa peinture ne cherche pas à reproduire le cadrage ou l'instantanéité de l'image photographique, celle-ci lui servant seulement à réactiver le contexte dans lequel elle a été prise, lui rappeler un motif, une impression. Les ensembles de toiles qui en résultent immergent le visiteur dans une couleur dominante, un matériau, une saison, ou encore un sentiment comme récemment dans l'exposition "Parpaing/Chagrin". Sur grand format, des sujets sculpturaux sont réagencés par affinité dans des décors naturels. Parmi eux, des tableaux abstraits de taille plus réduite viennent créer des correspondances de formes et de couleurs. La signalétique de PME y côtoie des fresques de HLM des années 70 et des sculptures de jardin évoquant des rites païens.

Plus récemment, la série "Braconnage" reprend l'idée d'emprunt sauvage de formes et de teintes dans les campagnes françaises. Dans cet ensemble, en apparence, deux abstractions se côtoient : d'une part une végétation simplifiée dans son dessin et son nuancier, dont les teintes opaques aplatissent le sujet à l'avant du tableau, et d'autre part une signalétique industrielle qui semble être la cristallisation géométrique de ce même nuancier. Mais si l'extrait de paysage subit un travail d'interprétation (de dénaturation), la signalétique est reproduite de manière fidèle, c'est une peinture figurative qui reprend de manière réaliste une abstraction géométrique existante et cherche à retrouver le geste technique du peintre d'enseigne. Si nous pensions reconnaître la représentation d'une réalité dans cette série, elle n'est pas tant dans les motifs naturels qui nous évoquent le camouflage (technique mise au point par un jeune peintre enrôlé dans la première guerre mondiale) mais au contraire dans la reproduction fidèle de ces peintures utilitaires.

"Braconnage" est donc un ensemble de diptyques dans lesquels les formes culturelles côtoient les formes naturelles sans s'opposer au sein d'une même peinture mais au contraire en dialoguant, côte à côte, tout comme le font les signes qui s'intercalent dans un paysage que l'on traverse.
Playing with the ambivalences of concrete and abstract, documentary and imaginary, minimal and abundant forms, my pictorial work begins on the road before it is composed in the studio. The samples I like to paint are taken from all the landscapes I have visited. Ornamental or utilitarian, with an artistic, ritual or descriptive ambition, the objects and patterns of the photographic collection I have been gathering for some years all manifest a common desire to express and embellish homes with shapes and colours. They aim to be distinctive. They are a popular version of the idea of the beautiful and of the efficient.

However, my painting does not intend to reproduce the framing or the immediacy of the photographic image. It is only meant to reactivate the context in which it has been taken, or to remind me of a pattern, or of an impression. The resulting groups of paintings immerse the visitor in a prevailing colour, a material, a season or even a feeling like recently in the exhibition Parpaing/Chagrin. On a large format, sculptural subjects are rearranged by affinity in natural settings. Among them, abstract paintings of a smaller size create echoes of shapes and colours. The features of small businesses are placed next to frescoes of low-income housings of the 70's and garden sculptures evoking pagan rites.

More recently, the series Braconnage goes back to the idea of the wild borrowing of shapes and hues in the French countryside. In this set, two abstractions are placed next to each other: on the one hand a picture of vegetation with simplified design and shades and whose opaque hues flatten the subject on the foreground of the painting, and on the other hand the industrial elements which seem to be a geometric crystallization of these very shades. The piece of landscape goes through a process of interpretation (of denaturing), but the industrial elements are precisely reproduced; it is a figurative painting that adopts in a realistic way an existing geometric abstraction. It aims to rediscover the technical gesture of the signs painter. If you thought you were recognizing the representation of reality in this series, it is not so much in the natural patterns that evoke camouflage (a technique invented by a young painter enrolled in World War I) but on the contrary in the accurate reproduction of these utilitarian paintings

Braconnage is therefore a group of diptychs in which cultural forms encounter natural forms in a same painting, not in opposition but on the contrary in a dialogue, side by side, much as the signs that are inserted in a landscape you go through.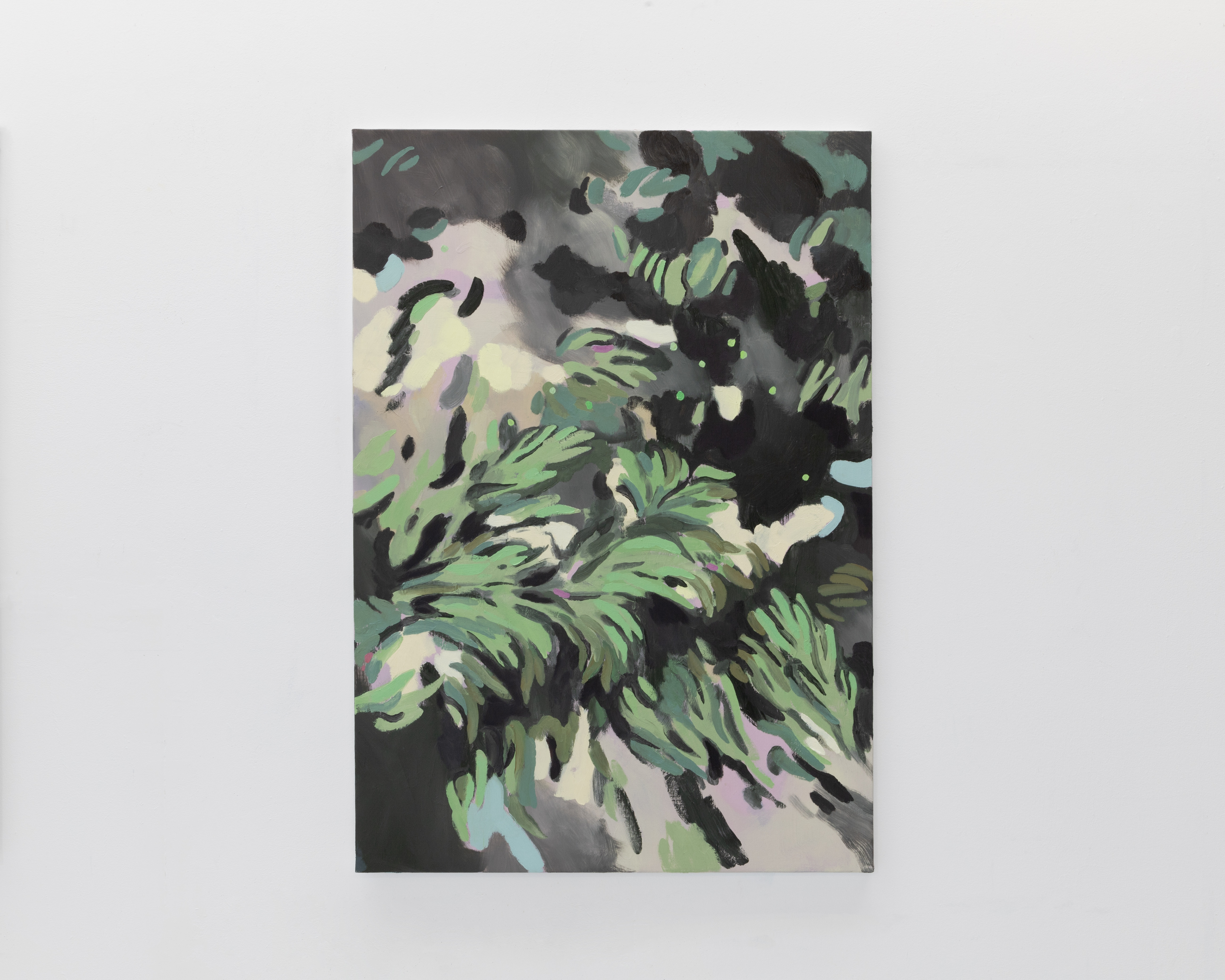 PARPAING/CHAGRIN
17/05 - 16/06/2018
Galerie 22,48m2, Paris
exposition personnelle / solo show
texte de / text by Jérôme Mauche
Ce que Nelly Monnier propose est rare, il faut le lui dire. Elle prélève, elle peint, elle associe, autant de gestes qu'elle contextualise. Posons, wikipédions Parpaing/Chagrin. Il y est question de contreforts, de points d'ancrage en métal qui soutiennent des murs, de façades d'HLM aux couleurs acidulées lorsqu'on traverse des régions assez rieuses et prospères, mais pour trois jours seulement. Zoomer, passer, reprendre, détacher, peindre, dessiner du moins l'interrogation, car c'est du langage. La lumière a été tempérée, puis humide. Ensuite il a fait très beau.
Par analogie, Nelly Monnier peint des détails prélevés du paysage qui fabriquent des signes. Ils proviennent, la plupart, des abords décoratifs des villes moyennes françaises ou de villages. C'est un répertoire, il est tenu, il est juste. Il y a des dates, des passages, des lieux réels. Ce n'est pas un journal, mais des photos, des relevés qui deviennent. On y ressent le punctum français, lié sans doute à l'enfance, celui du toponyme, la touche, l'illusion ou le devoir. Car le présent présente. Et quelquefois, comme un charme, il échoit aux peintres d'ajuster entre eux le camaïeu du format, du sujet – fut-il atteint de scoliose – et l'idée aussi de la boue. Comme au javelot, au disque, certains n'ont qu'à le prendre en main, accélérer l'élan, courir, l'intensi er, puis le lâcher.
Or de ce mini-univers, on l'appellera (en peinture aussi) : une fracture de fatigue. C'est une blessure sportive, une douleur incomplète qui atteint. À quoi opère-t-elle ?, car il ne s'agit pas d'une déchirure. S'il y a lésion, c'est qu'il y a eu structure, et non des moindres, telle est son ambition : l'appellation, les noms, les mots et les choses, la peinture, le paysage... et leur état afférent de très grandes langueurs factuelles, historiques. Plus mêmes mortelles comme on a pu le croire, à plaisir, mais de stress. Pareilles aux animaux en élevage, pacage et zoo : Émile Aillaud à la Grande-Borne; le ls en peinture, crocodiles et lions.
Quelle est la fatigue, où est la fracture ? Frottement, la France – pays qui n'a d'ailleurs de pictural que le nom, mais aussi la peinture, débarrassées l'une et l'autre bien sûr de tous prolégomènes réacs, catégorisées plutôt comme une ludothèque légère, un parc à thème possible, à dimension encyclopédique (mais sans index, heureusement). On s'en doute, elle n'atteint que le sportif d'endurance qui a élu comme terrain d'entraînement une surface dure, béton ou synthétique. Le réel stressé est celui de la précision irraisonnée – qui passe par le ou du détail accumulé. Car pleuvait-il, ce jour-là ? La désunion des lieux et des temps est-elle irrésolue ? De quelle bizarrerie cet édicule dans le pré me touche-t-il ? Et par quels dallage et fontaine publique alors sans vasque (mais conçue comme telle) ? Y-a-t-il dans ce bled encore un café ? À quelle heure peut-il bien ouvrir ? (du liant, mais non du lien). N'y rendrait-on pas, d'ailleurs, maintenant de petits services de proximité comme à la Poste ?
À moins que la fatigue ne soit que dans notre regard et nos pré-construits dès lors que se pro lent ces lieux communs qui sur- signi ent, et qu'elle découpe, elle, avec habileté, se déjouant du ringard éventuel, qu'elle neutralise comme une pastille. Car l'essentiel est cette articulation qui peut faillir.
Peinture, non par primat métaphysique, mais parce qu'elle est ce babil premier en art qu'on découvre et contacte. Collecte et enquête, tours et détours, le prospect et l'aspect comme disaient les Anciens, dont l'élégance est de semi-effacer les paramétrages.
Du paysage au passage – de la France, par métonymie –, elle pratique un pointillé général d'emblée (qui n'est pas un copier/ coller), fait d'excursus, et qui constitue comme une annotation, une irréalité de principe ici ou là, un divers et multiple point d'appui du regard. D'où son aisance à ler directement vers le langage dont elle produit là aussi des frises (car Nelly Monnier écrit). Elle accompagne quasi chacune de ses expositions (donc de ses questions) d'un livret (qui heureusement n'apporte aucune réponse, car c'est de la littérature pure).
Cet esprit de parcours, je le rapprocherais des pérégrinations de cette autre héroïne dans la vie, Victoire dans le vieux roman, Un an, de Jean Echenoz (1997), de la région parisienne, aux Landes, jusqu'au Pays Basque, la réduisant d'ailleurs en SDF ; mais là où primait l'ironie, Nelly Monnier prolonge sur les Routes de France ce jeu de société décentré. Il lui faut pour débuter un double six. Qui lui permette de se mettre au travail. Sans même avoir besoin de tricher (photo à l'appui). S'arrêter quelque part, regarder et remarquer. Une délicate étrangeté, un éclairage arti cieux. De l'art comme un rocher involontaire. Comme la fine fissure mais sue de l'os.
What Nelly Monnier offers is rare. She should be told. She samples, she paints, she combines, contextualising all that she does. Let's situate Parpaing/Chagrin. Let's Wikipedia it. It has to do with counterforts, metal anchoring points that support walls, brightly coloured council block façades when you pass through fairly jolly and prosperous regions, but for three days only. Zoom, select, copy, detach, paint, draw at least the question, for it is language. The light was temperate, then humid. After that the weather was very nice.
By analogy, Nelly Monnier paints details sampled from the landscape, details that form signs. For the most part, they come from the decorative outskirts of medium-sized towns and villages in France. It is a repertoire, it is maintained, it is accurate. There are dates, passages, real places. It is not a newspaper, but photos, statements that become. You sense French punctum in it, linked undoubtedly to childhood. The punctum of the toponym, touch, illusion and duty. For the present presents. And sometimes, like a charm, it falls to painters to adjust and harmonise the shades of the format and subjects – even if they have scoliosis – and the idea of mud too. Like in javelin or discus throwing, some need only take it in hand, accelerate their pace, run, intensify, then let it go.
But in this mini-universe, we will call it (in painting too) a fatigue-induced fracture. It is a sports injury, an incomplete pain that arises. What is its purpose? For it's not a tearing. If there is a lesion, it is because there was a structure, and no minor one, such is its ambition: the appellation, names, words and things, painting, landscape... and their state associated with very large, factual and historic kinds of languor. No longer even deadly as we might have liked to think, but of stress. Like animals in a farm, pasture and zoo: Émile Aillaud at La Grande-Borne; the son in a painting, crocodiles and lions.
What is the fatigue? Where is the fracture? Friction, France – a country with nothing pictorial but its name, but also painting, both rid of course of any reactionary prolegomena and categorised more as a light library of games, a possible theme park with an encyclopaedic aspect (but without an index, luckily). As suspected, it affects only the endurance athlete who has chosen a hard concrete or synthetic surface for a training ground. Stressed reality is the reality of irrational precision – which involves the blurriness of accumulated detail. For was it raining, that day? Is the disunity of places and time unresolved? With what strangeness does this kiosk in a meadow touch me? And with which paving stones and public fountain without a basin (but designed that way)? Is there still a café in this town? What time might it open? (binding material, but not of a bond). And don't they offer little convenience services there now, like at the post of ce?
Unless the fatigue is only in our gaze and preconceptions from the rst appearance of these common places that over-signify, which she cuts out, skilfully, avoiding any uncoolness, which she neutralises as if it were a dot. For the essential thing is this articulation that can fail.
Painting, not out of metaphysical primacy, but because it is the rst babbling of art that we uncover and contact. Collection and investigation, tours and detours, the prospect and aspect as the Ancients used to say, whose elegance lies in semi-erasing the con guration.
From landscape to passage – of France, by metonymy –, she practices a general stippling from the beginning (which is not a copy/ paste), composed of digression, and which constitutes a sort of annotation, an unreality of principle here or there, a diverse and multiple anchoring point for the gaze. Whence her ease in going straight to language, which she also produces friezes of (for Nelly Monnier writes). She accompanies just about every one of her exhibitions (and therefore these questions) with a booklet (which luckily provides no answer, since it is pure literature).
I would compare this spirit of travel to the peregrinations of that other heroine, Victoire from the old novel Un An by Jean Echenoz (1997), from the Paris region to the Landes and on to the Basque Country, reducing her to a homeless person; but the irony is that Nelly Monnier extends this off-centre board game to the roads of France. To begin, she needs to roll two sixes. This lets her get to work. Without even needing to cheat (a photo proves it). Stopping somewhere, looking and noticing. A delicate strangeness, an arti cial lighting. Art like an accidental rock. Like a fine fissure, but on bone.

Jérôme Mauche
Translated by Elisabeth Lyman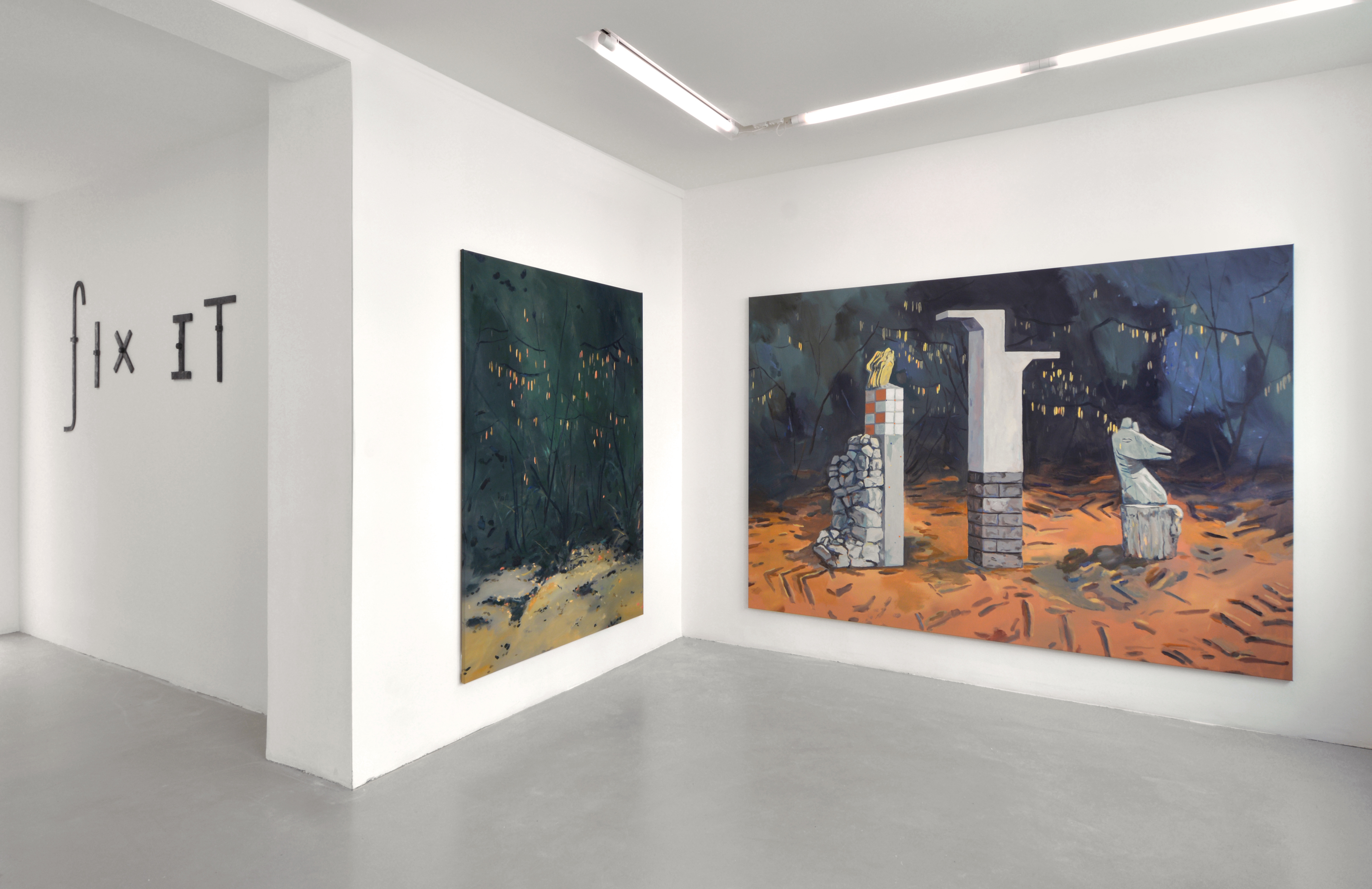 Le thème inca
du 19 septembre au 25 novembre 2017
à la galerie M, Toulouse
Jeune Création - 67e édition
du 8 au 21 juillet 2017
à la galerie Thaddaeus Ropac, Pantin


Avec : Amandine ARCELLI, Stessie AUDRAS, Sylvain AZAM, Marion BALAC, Mohamed Tayeb BAYRI, Léandre BERNARD-BRUNEL, Jérémy BERTON, Louise BOSSUT, Jessica BOUBETRA, Hilda CAICEDO, Laure CATUGIER, Vincent CHEVILLON, Clara CITRON, Oliver CLEMENT, Pierre CLEMENT, François-Noé FABRE, Sarah FEUILLAS, Étienne FRANCOIS, Guillaume GEHANNIN, Audrey GLEIZES, Théo HERNANDEZ, Albane HUPIN, François JACOB, Justyna JANETZEK, Jules LAGRANGE, Yannick LANGLOIS, Thomas LASBOUYGUES, Flavie L.T, Romain LECORNU, Juliette LIAUTAUD, Violaine LOCHU, Jordan MADLON, Oscar MALESSÈNE, Manoela MEDEIROS, Nelly MONNIER, Raphaël MOREIRA GONÇALVES Jean-Julien NEY, Margot PIETRI, Laura PORTER, David POSTH-KOHLER, Félix RAMON, Octave RIMBERT-RIVIÈRE, Camille ROSA, Raphaël ROSSI, SALUT C'EST COOL, Ludovic SAUVAGE, Quentin SPOHN, Melchior TERSEN, Maxime THOREAU, Guillaume VALENTI, Anaïs VOLPÉ, Lucy WATTS, Joonyoung YOO